California Cash Buyer
California Cash Buyer, is a real estate investment firm that buys houses in the Bay Area California.  We are a family owned business and focus on helping homeowners like you find solutions for your problem.  We focus on providing homeowners with a win-win solution on their challenging situations.
We are BBB Accredited Business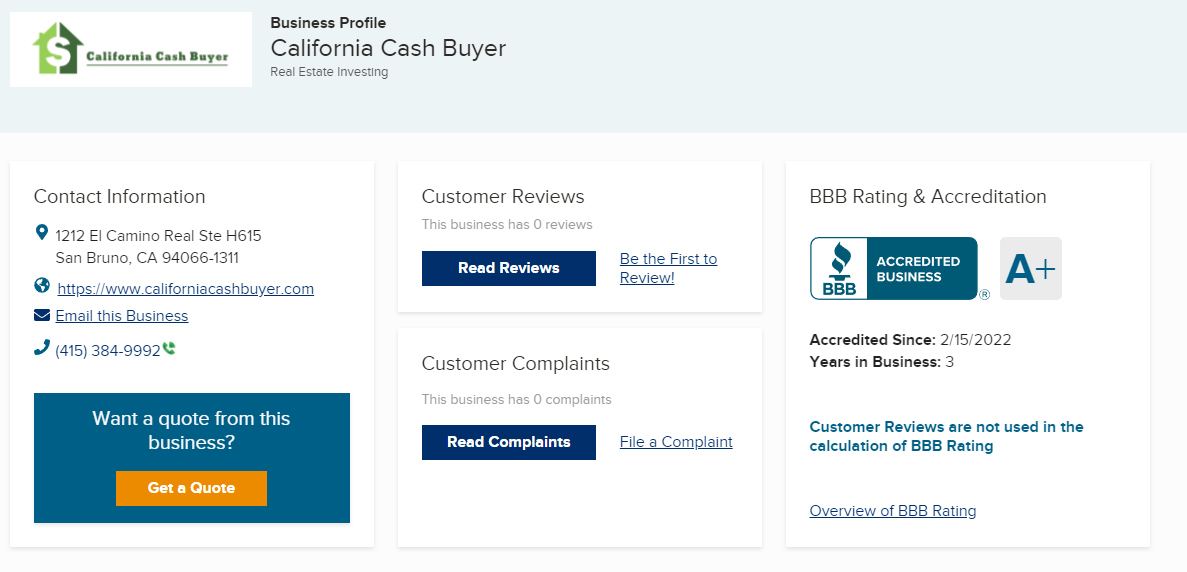 Our Real Estate Specialties Include:
Foreclosure Avoidance
Debt Removal or Renegotiation
Solving Title Issues
Homeowners needing to sell due to a Job Relocation
Homeowners needing to sell because another home has been bought
Houses in Major Disrepair
Bankruptcy
Divorce
Clearing up Judgments or Outside Liens
Vacant Properties
Landlords tired of dealing with a rental property
And many other things…
---
MISSION
Our mission is to provide real estate solutions to homeowners looking to sell their property fast.
Our mission is based on the following principles:
FAIR:  We provide best customer value possible.
LISTEN: We listen to the needs of homeowners looking to sell by asking the right questions. After, we will be able to recommend the best possible solution for their needs.
TRUST & HONESTY: We are committed to building TRUST. Through our actions, we will build a relationship of trust and honesty. Homeowners looking to sell with us will trust we are always going to do what is right.
COMMUNITY & GOODWILL: Provide value to our community by cleaning up and rejuvenating neighborhoods, stimulating the Bay Area's economy by hiring local contractors and service providers.
---
The California Cash Buyer Business Code Of Ethics!
Allow Honesty be the approach to any hardship
Let Integrity be the foundation of our business
Give better offers than our competitors.
Provide more value than our competitors
Be more knowledgeable thank our competitors.
Be more transparent than our competitors
Set an example for our competitors
California Cash Buyer clients have given us 5-star reviews on Facebook, Google, and Yelp. 
If you have any questions about how we work, what the process of selling a house or just want to learn more about us… don't hesitate to contact us anytime!
Call California Cash Buyer (415) 384-9992