Sell House Fast In Pacifica California
We Buy Houses In Pacifica And Other Parts of California
NO

FEES

, NO

COMMISSIONS

& NO

HASSLE
Would you like to sell your house in "As-Is" condition with no fees, no repairs, and at a fair all cash price quickly?
Here area some of our benefits:
Receive a fair cash offer.
No fees, commissions, or closing costs.
Sell as-is, no paying for repairs.
No obligations to accept an offer.
Close when you choose.
Fair, professional, and experienced.
We may buy with existing occupants.
Less paperwork.
How Our Offer Process Works
Step 1: Call or submit your information
Then we'll hop into action and determine your fair cash price.
Step 2: Meet at house and get your fair offer
Within 1 business day we'll make you a no-obligation offer at a fair price and meet you at the property to go over any questions
Step 3: Choose your closing date.
You control the process. Choose when you want to close and get paid. We'll handle the details for you. Learn More >>
Deciding what is the best way to sell my house in Pacifica?
Here are the differences between selling to California Cash Buyer verses the "traditional" route with a MLS listing
Selling w/ An Agent

SOLD To California Cash Buyer

Commissions / Fees:
6% on average is paid by you, the seller
NONE
Who Pays Closing Costs:
2% on average is paid by you, the seller
NONE – We pay all costs
Inspection & Financing Contingency*:
Yes, up to 15% of sales fall through
NO Financing Contingency
Appraisal Needed:

Yes

, the sale is often subject to appraisal
NONE – We make cash offers
Average Days On Market (DOM):
+/- 91 Days
IMMEDIATE CASH OFFER
Number of Showings:
It Depends
1 (Just Us)
Closing Date:
30-60 +/- days after accepting buyers offer
The Date Of YOUR CHOICE
Who Pays For Repairs:
Negotiated During Inspection Period
NONE – We pay for all repairs
Here are some reasons to use us:
More About Pacifica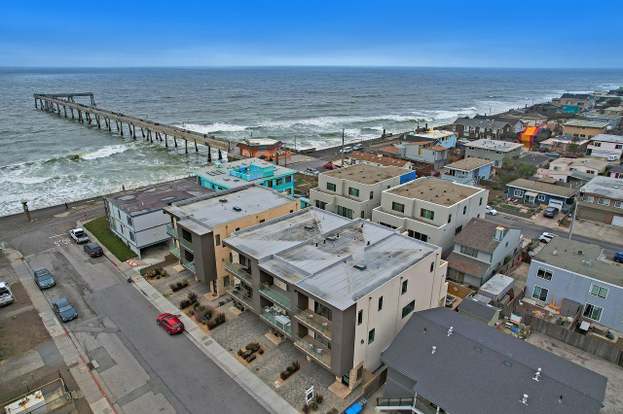 Pacifica is a smaller city in San Mateo County with its residents being around 40,000. The city itself lies right on the coast of the pacific ocean right between San Francisco and Half moon Bay. Being a smaller town on the water Pacifica is well known as a popular surfing and fishing destination at Linda Mar Beach. Many extreme mountain bikers come here as well because of the vast trails surrounding the water.
Things to do:
When you come to Pacifica the main thing to do is go to one of the state beaches, the most popular ones are Linda Mar Beach, Pacifica State Beach, and Rockaway Beach. If you love fishing you can visit the Pacifica Municipal Pier where you can catch crabs and fish without a permit, restaurants will also cook up your catch right there as well! There are also many local restaurants in Pacifica some of the most notable ones are: Pedro Point Brewing, Gorilla Barbeque, and Camelot Fish and Chips! Don't forget to make a stop at Seabowl if you want to get in a round of bowling!
Did you inherit a property and you want to cash out? Are you going through divorce? Behind on payments and facing foreclosure? Moving? Have a vacant property? Tired of being of a landlord? Death in the family? Selling your house during times like these can be very difficult. We can make things much easier for you. We understand your needs and we can work with you to find a solution.
Basically, if you have a property and need to sell it… we'd like to make you a fair cash offer and close on it when you're ready to sell.
Our goal is to help make your life easier and get you out from under the property that's stressing you out… while still paying a fast, fair, and honest price for your house.
If you simply don't want to put up with the hassle of owning that house any longer, and if you don't want to put up with the hassle and time-consuming expense of selling your property the traditional way, let us know about the property you'd like to be rid of and sell your house fast for cash.
We buy houses in Pacifica, California and all surrounding areas in California. If you need to sell your house fast in California, connect with us… we'd love to make you a fair No Risk, No Obligation, Completely Hassle Free offer!